July 2019 - December 2019
Myself, Jason Haley (University Photographer), Keith Crawford (Photographer)
PROBLEM:
For this project I was approached by the Director of the Chico State Wildcat Recreation Center (WREC) to design a year end report.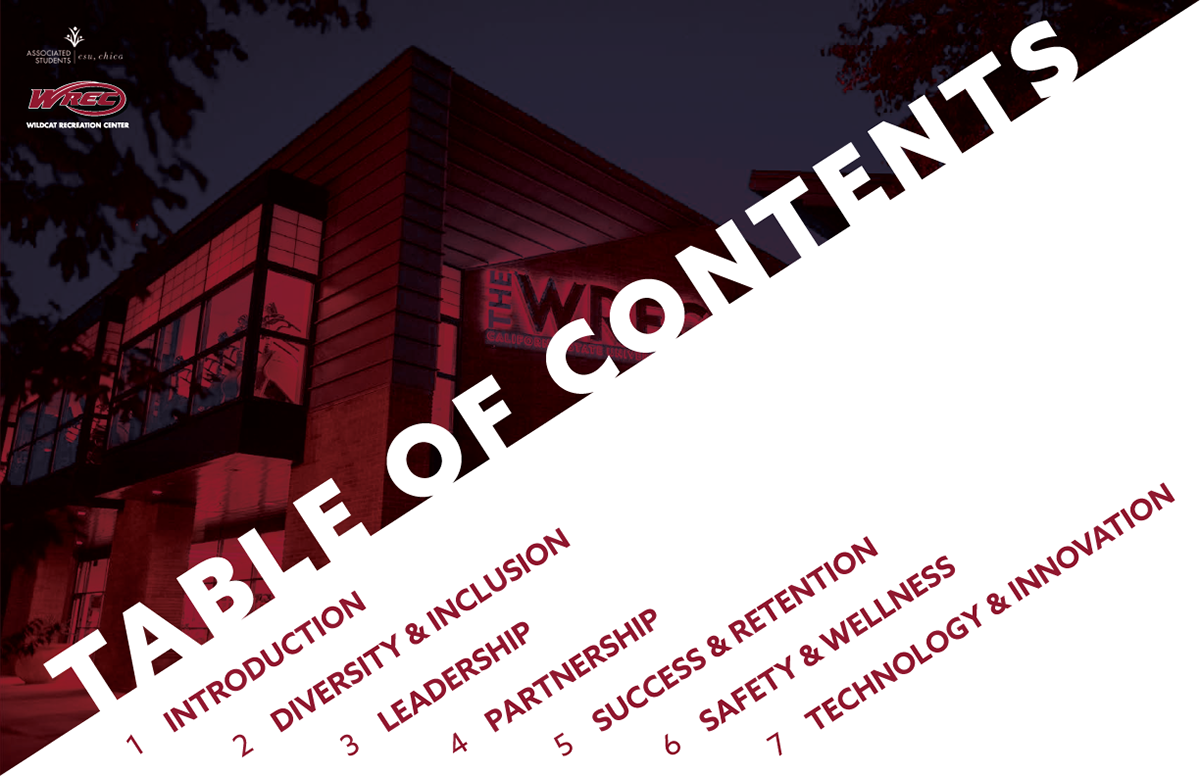 I was given data on the progress The WREC had made in the 2018/2019 academic year, and was tasked with designing the full report layout, as well as the Infographics shown.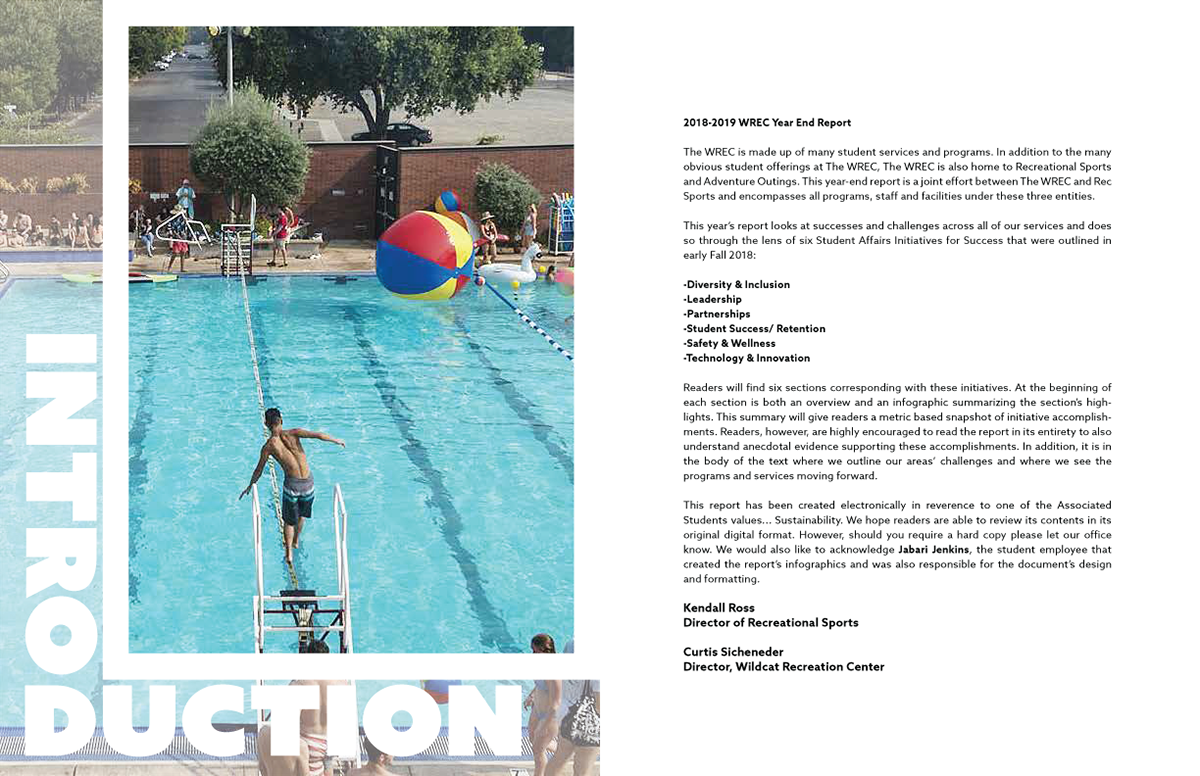 How I chose to tackle this project was to start with the infographics as that would take the most amount of time and creative juice. I wanted the infographics to tell a story of sorts; I wanted to create a small world so to speak, and create these small characters to represent the students inside the little world I created. 
I started with some sketches of the characters and finally landed on what you see in each graphic. I pulled various different photos from our WREC photo vault and the Chico State Flickr, and played with different variations until I found pictures that fit well with the Cover and its typography, the Introduction, and the Table of Contents.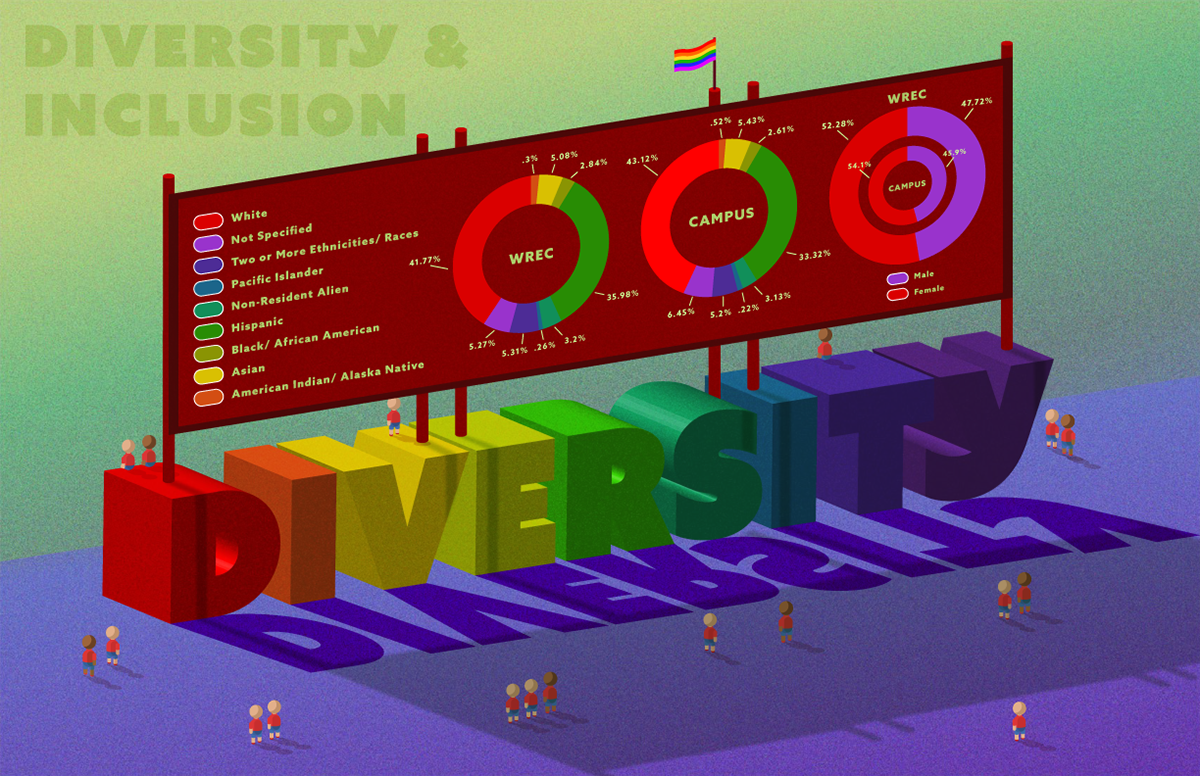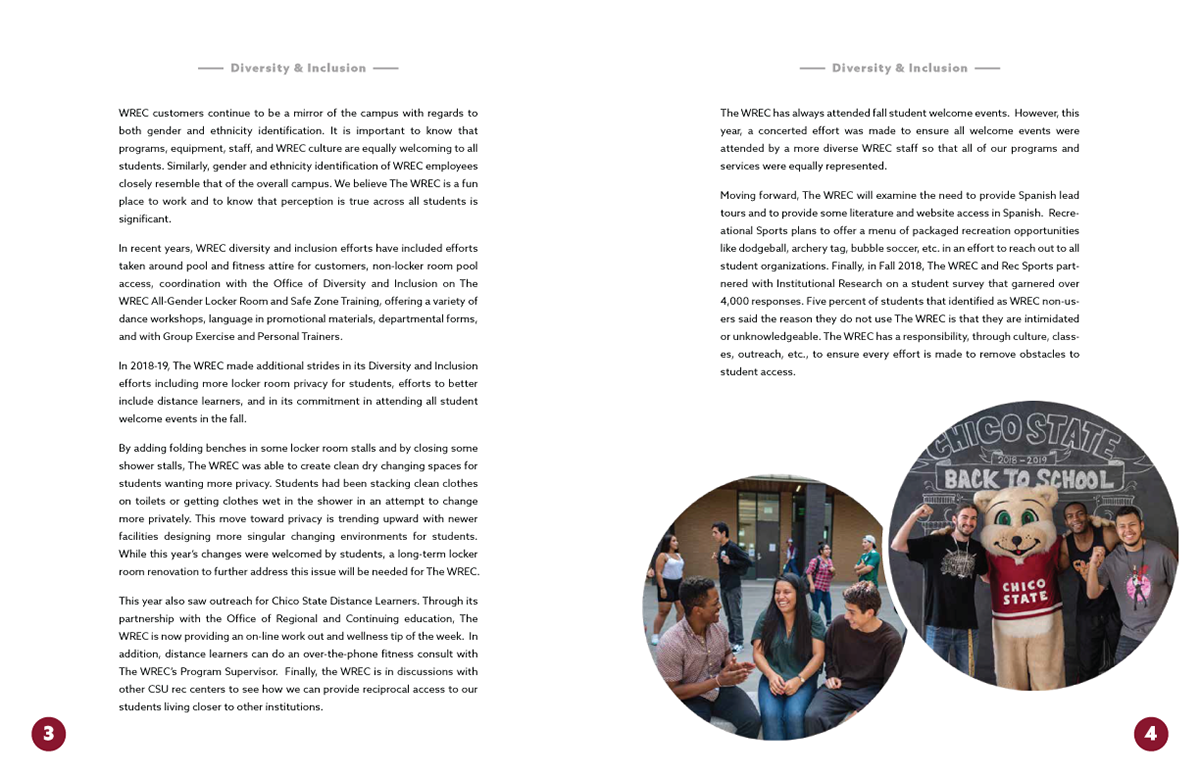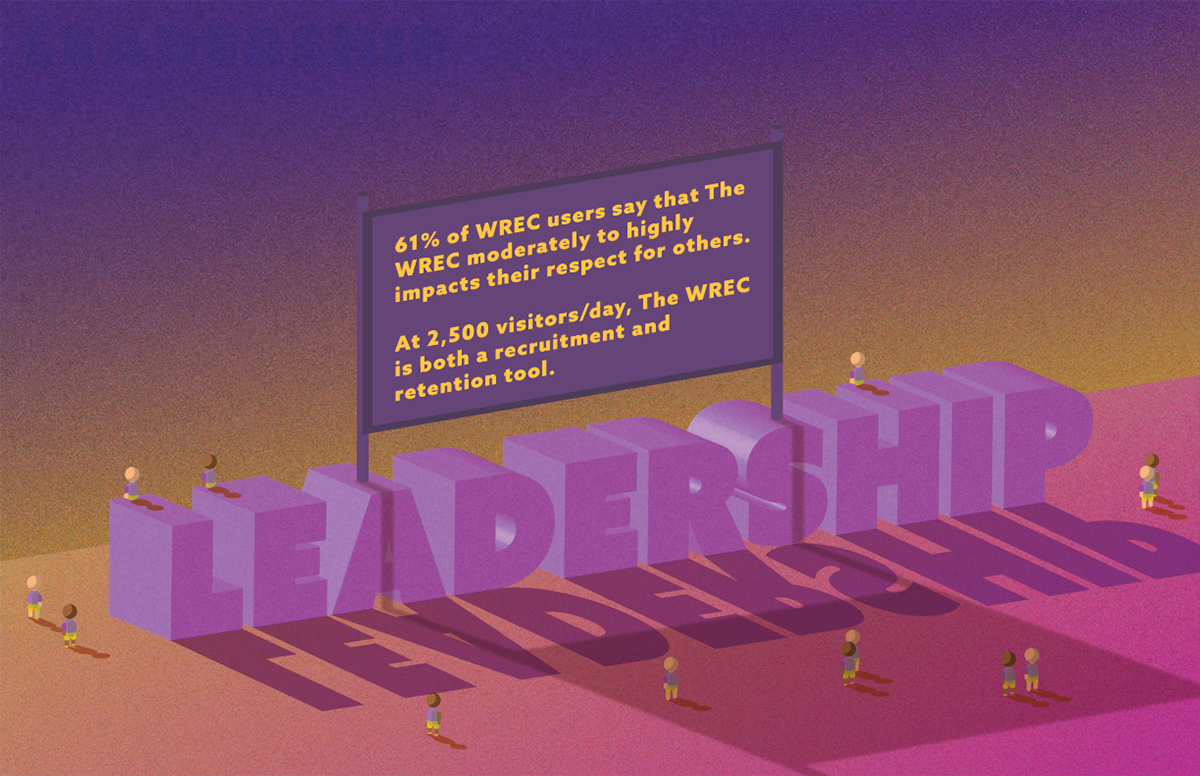 In each infographic there is a color theme incorporated to represent the different chapters/ categories of the year end report; red for "Safety and Wellness", blue for "Technology and Innovation", green for "Success and Retention" so on and so forth.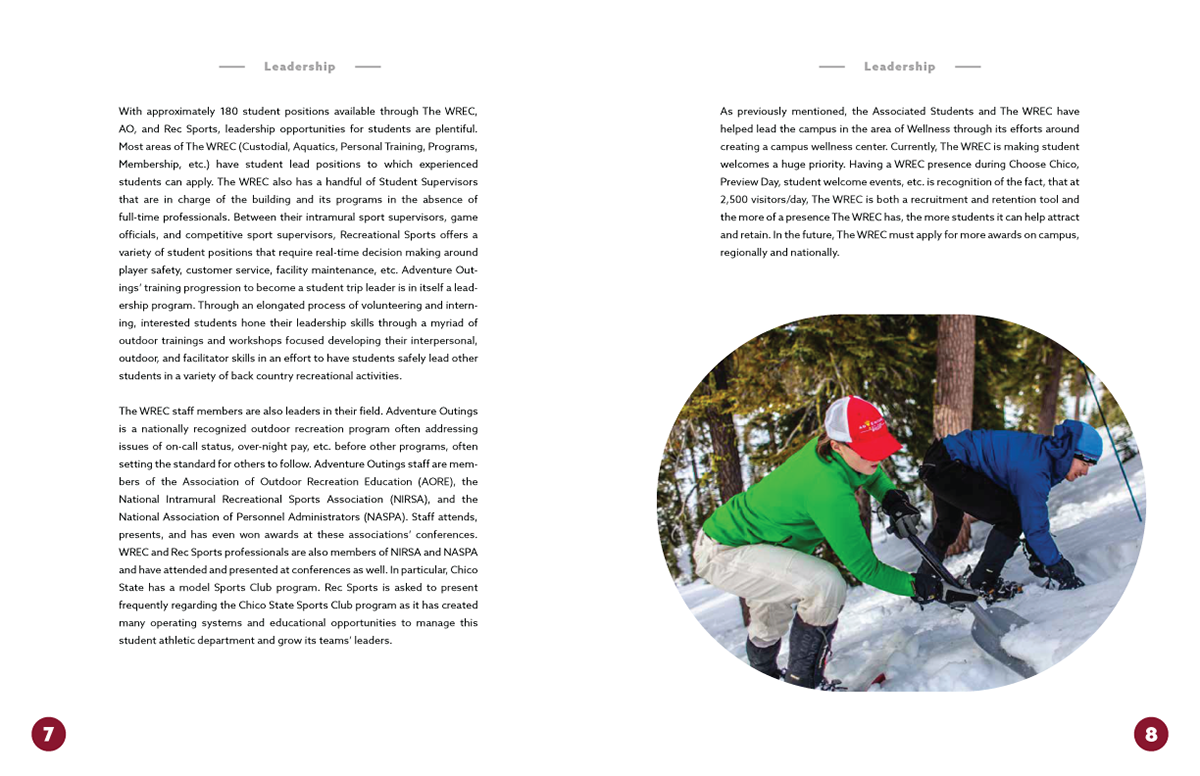 Once I had the overall theme and design, I took the most important pieces of information, and compressed it down into digestible bits of information for readers to quickly get the gist of that chapter, and immediately on the next page is all of the information for that chapter.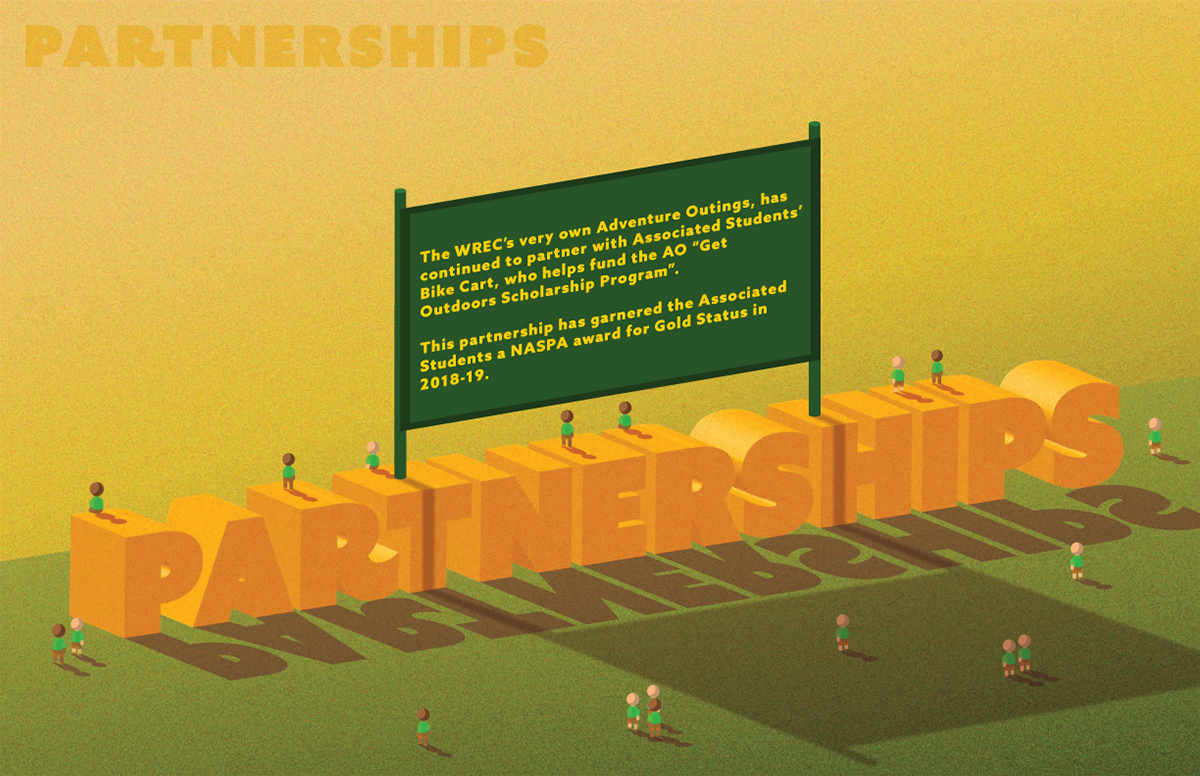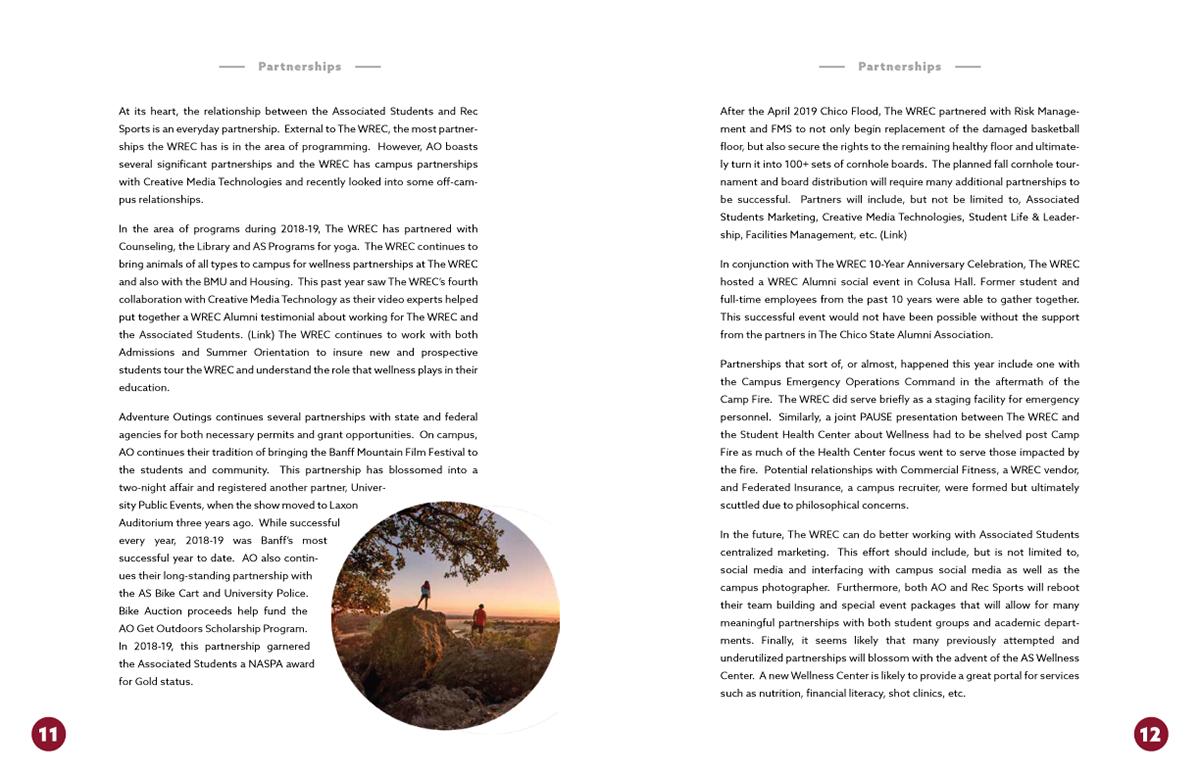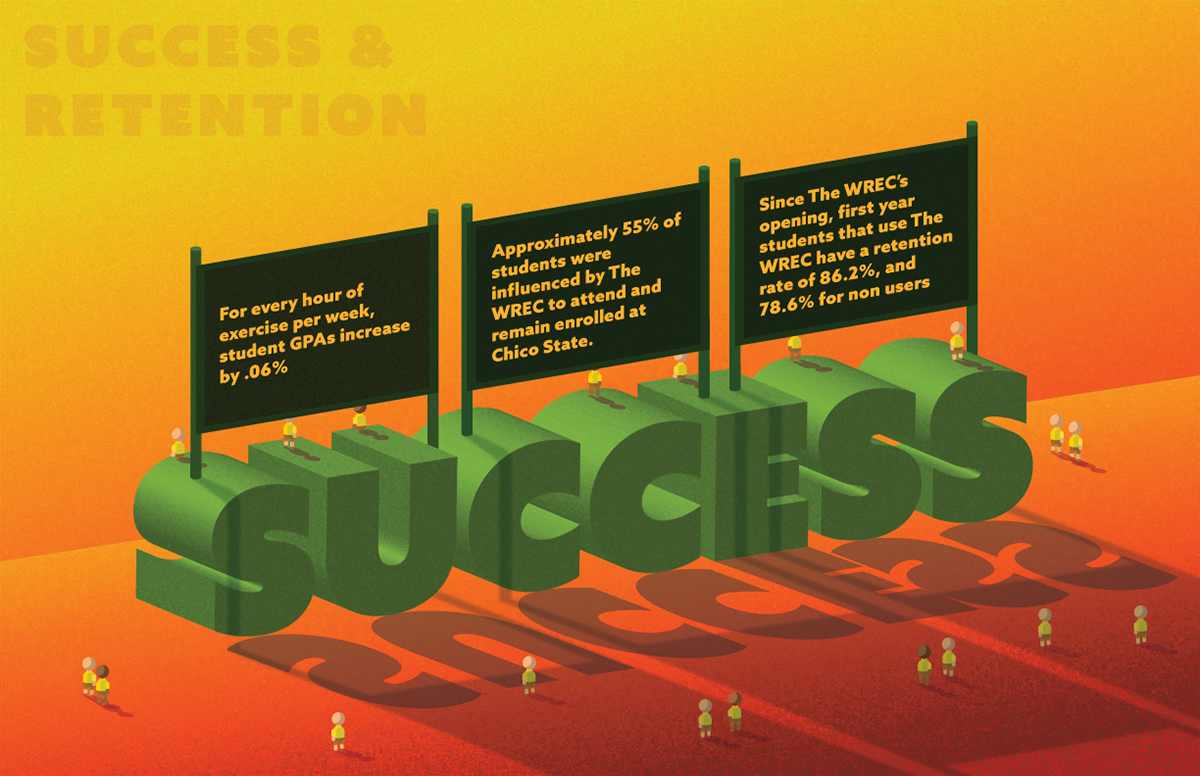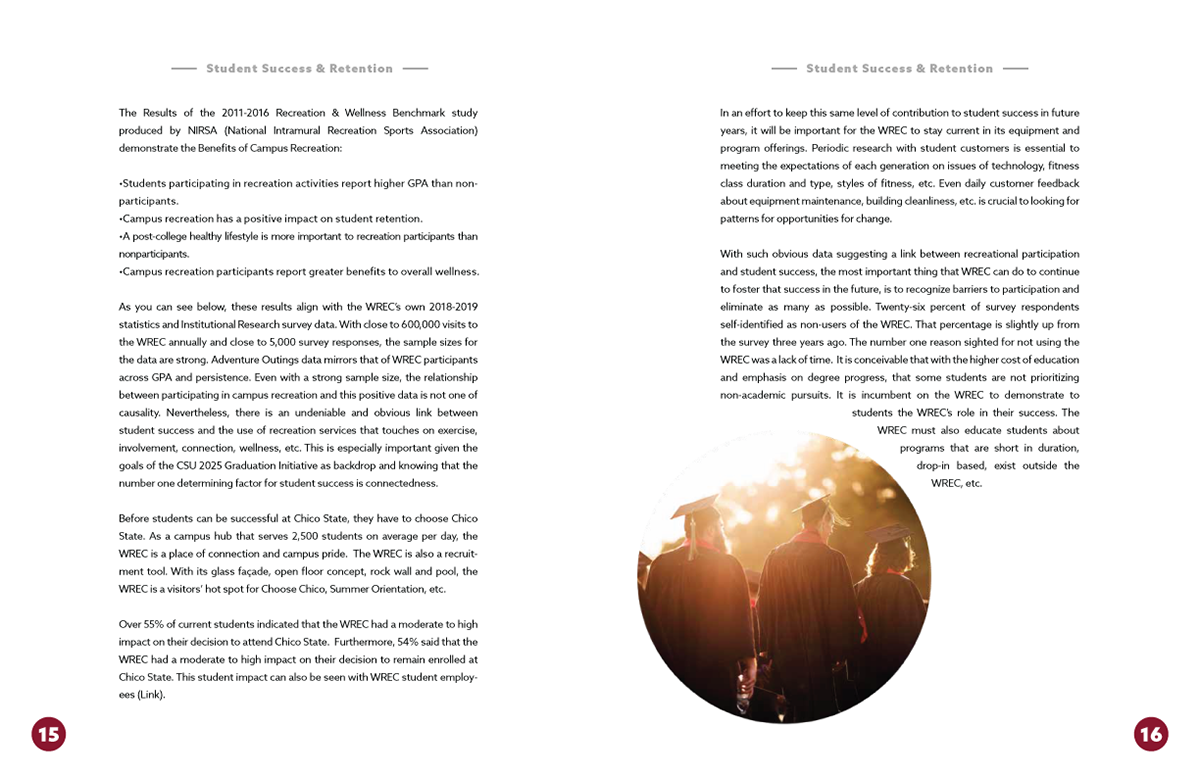 For the rest of the report, I used a basic grid to place the copy appropriately; incorporating pictures shot by the university photographer Jason Haley to represent what is being said in that chapter.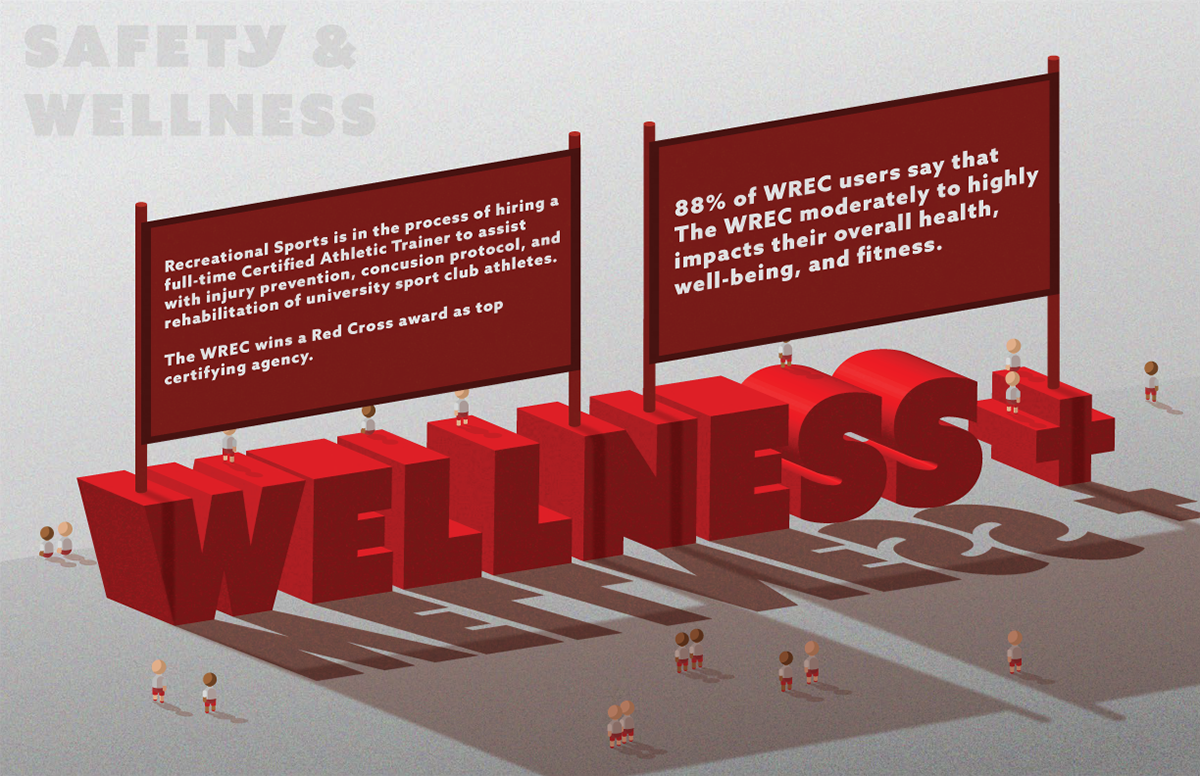 I loved this project because it broke me out of my comfort zone and was a challenge that tested my design thinking. This was actually the first infographic that I've ever done. So I was a little nervous, but I was confident in my skills that I could come up with something. Going into this, I really wanted to take the diversity aspect of the first chapter and run with it. I spent my whole summer collaborating with the director on this project, but I was grateful because it kept me busy and fresh for the upcoming semester.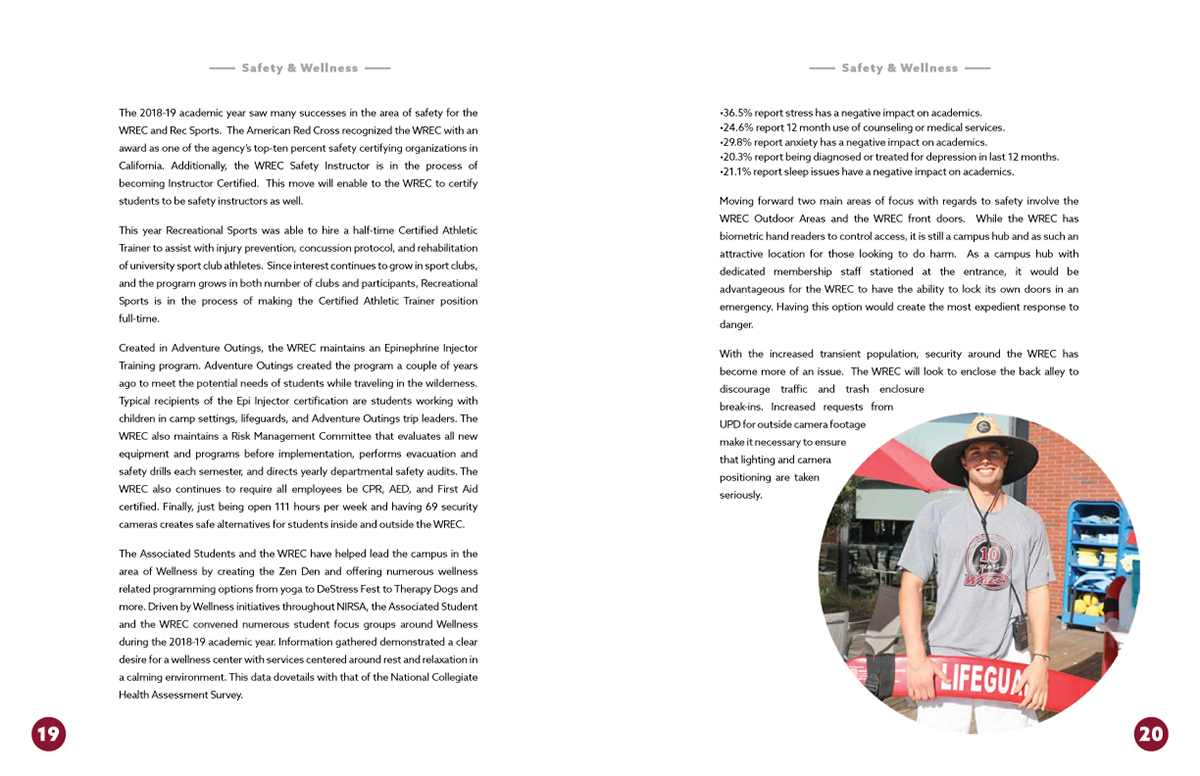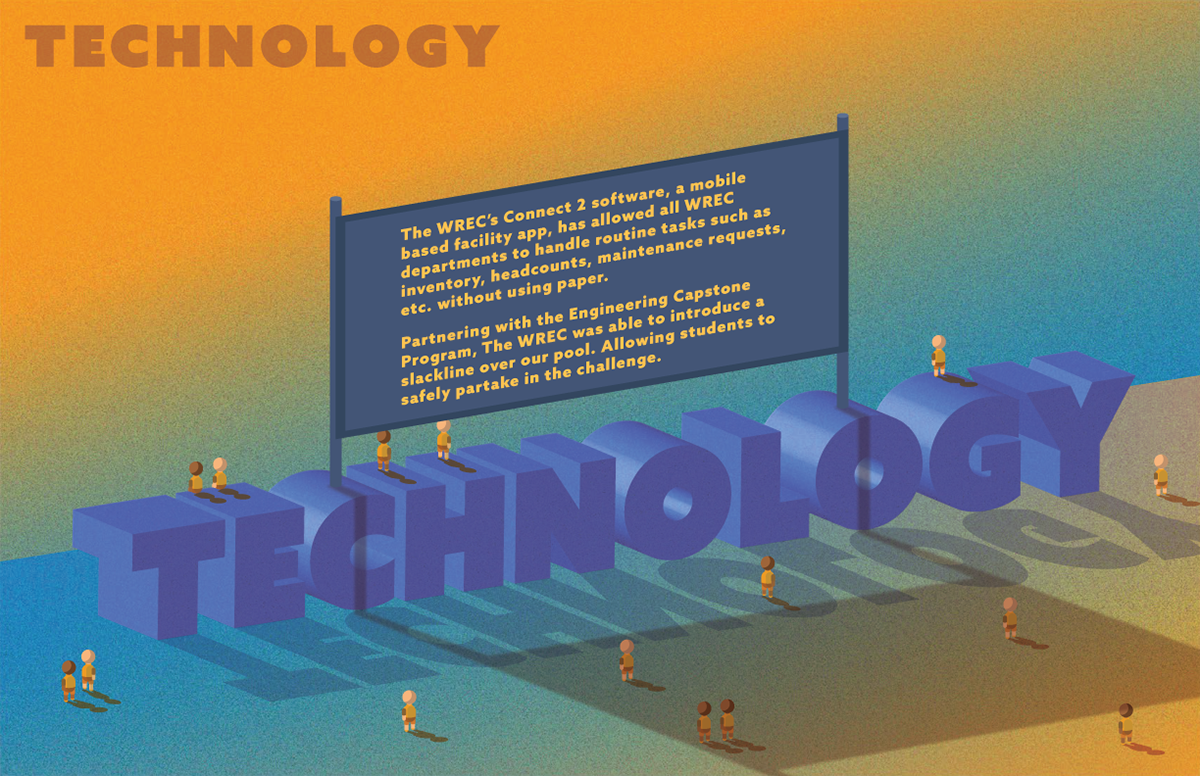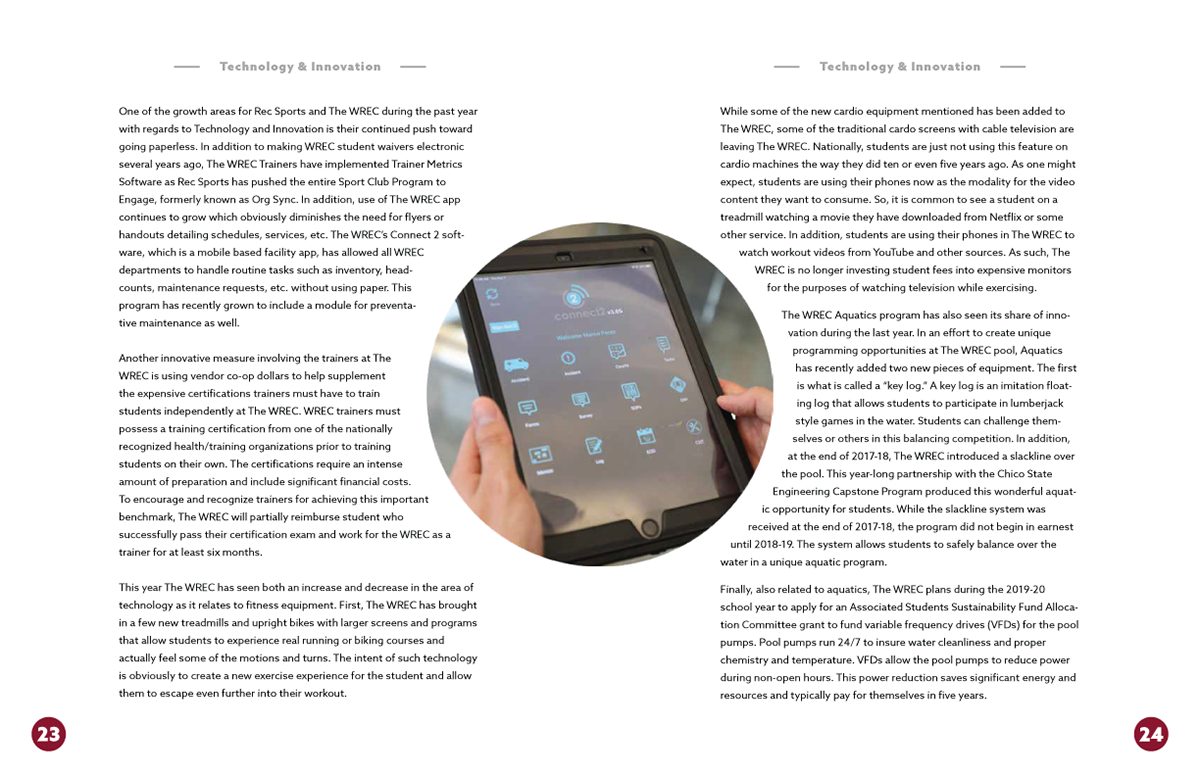 The most important part of this all was that the Director was impressed and loved the work I did. Upon the final publication day, and the Director presenting the report to his supervisors, he came back and told me that his bosses were even enjoying it. That put a smile on my face to say the least, made me feel proud of myself and boosted my confidence a little bit haha. But looking back at this project, and now that I have more illustrator experience and tricks up my sleeve; I'd definitely shoot to differentiate each chapter a little more. If given a little more time and a computer to handle bigger files better and faster, I would've loved to add some more visual elements to each chapter's infographic. Maybe make it even more city-like so to speak with more illustrations etc.